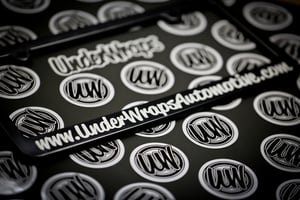 $

14.99
We wanted something different with our plate frames, so we decided to offer some wild ass colors that no one will have this 2013 show season! Not into the wild and exotic colors, no problem.. pick from our list of 20 plus stocked "LOGO-COLOR" options to add to our black plate frames!
Each Kit will consist of:
2 License Plate Frames (Black) - Your Color Choice OF URL!
2 UnderWraps Die-Cut Decals
1 UW circle decal.
1 UW button.
*** SHIPPING: 2-3 DAY DELIVERY! ***
(PLEASE NOTE THAT SHIPPING IS A BITCH... BECAUSE WE HAVE TO SHIP IN A BOX FOR TRANSIT)